Jwalamukhi Temple: India's Most Powerful Ritualistic Temple
The Jwalamukhi Temple is situated in Himachal Pradesh's Kangra Valley. It is also devoted to the "Goddess of Light '' and is one of the 51 Shaktipeeths of Goddess Sati. Moreover, it is a well-known temple. Goddess Sati's tongue fell on this holy place. Raja Bhumi Chand Kataksha of Kangra is said to have been a strong devotee of Goddess Durga. Therefore, the temple was erected here, thanks to him.
Himachal news

176
What to Know About the Jwalamukhi Temple
The entire construction work for this temple was eventually completed in 1835 by Maharaja Ranjit Singh and Raja Sansar Chand. The Jwalamukhi temple is a contemporary structure. Its gorgeous folding door is made of silver plates, and its dome is composed of gold. It is stated that nine Mother Shakti flames are sparked here. In Northern India, one of the greatest Hindu shrines is the temple dedicated to Maa Jwala Devi. The Kangra district of Himachal Pradesh is 30 kilometers away from this temple. Jota Wali's Temple and Nagarkot are other names for the Jwalamukhi Temple. This temple's unique quality is that the Goddess isn't represented by an idol there. It is located in the serene foothills of Kali Dhar mountain. The nine lights lit here are Mahakali, Annapurna, Chandi, Hinglaj, Vindhyavasini, Mahalakshmi, Saraswati, Ambika, and Anjidevi. The blazing flame burns continually without ghee, oil, lamp, or wick in this place. This flame emerges from the crack in the stone. The temple priests have lit a copper pipe that releases natural gas inside the structure, creating a perfect blue blaze.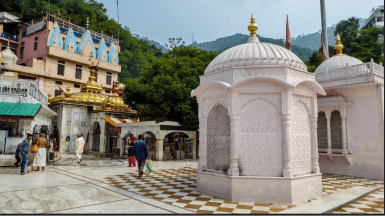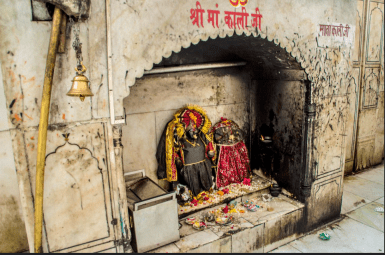 History of Kangra's Jwalamukhi Temple
The Jwalamukhi temple is one of the 51 shrines of the Goddess Sati that have been constructed in India. This Shaktipeeth is also mentioned in the Mahabharata, the Devi Bhagwat, and the Skanda Puran. The most significant moment in Maa Jwalamukhi's life was when King Daksh hosted a grand Yagya in Kankhal. This is now known as Haridwar and summoned every god there, except Mahadev and his consort mother, Sati. Despite Lord Shankar's concerns, Goddess Sati went there. When she witnessed Lord Shiva being humiliated, she could not bear it. She was upset and jumped into the Havan Kund and left her body there. Later, Lord Shankar put her burning remains in a trident. Goddess Sati's tongue had fallen here when this incident occurred.
For What is Kangra's Jwalamukhi Temple Well Known
The Kangra district of Himachal Pradesh is home to the Jwalamukhi Temple, one of the 51 Shaktipeeths of the Goddess Sati of India. For hundreds of years, it has been renowned for its searing flame. This temple contains no idols. Instead, this flame is revered here.
Also Read- https://himachal.blog/holy-shrine-of-the-blue-goddess-kali-bari-temple/
Fair and Festivity at Kangra's Jwalamukhi Temple
At Jwalamukhi Mandir, celebrations of festivals are held. Twice a year, in September and October, the fair at the Jwalamukhi temple is conducted during the Navratri of Chaitra and Ashwini, near the Jwala Kund, where devotees travel. Where the sacred fire burns and people present their sacrifices, Near Gorakh Tibi Jwala Kund is where Gorakh Panthi Nath's center is located. They are considered important attractions here, including folk dances, concerts, dramas, wrestling matches, and athletic fairs.
When to Visit Kangra, Jwalamukhi Temple
The Jwalamukhi Temple's gates are open every day of the week. This temple is open from 7:00 am to 11:00 am and 4:00 pm to 8:00 pm. In addition to the customary offerings of seasonal fruits and milk, a havan is held daily in this temple, and Rabri Mishri is offered to the Goddess.
Jwalamukhi Temple's Aarti Timings
Five Aartis are performed daily in this temple. The first Aarti, known as "Mangal Aarti," occurs when the temple gates open in the morning, between 5:00 and 6:00 in the summer and 6:00 and 7:00 in the winter. The following Aarti, "Panjupchar Pujan," is done at sunrise and begins at about 6:00 am in the summer and 7:00 am in the winter. The following Ais is called "Bhog ki Aarti," and during this ritual, the deities are showered in fruits, milk, etc., between 11:00 am and 12:00 pm (in the summer) and 11:00 am and 12:00 pm (in winter). The following Aarti is referred to as the "evening Aarti," and it is performed from 7:00 to 8:00 pm (during the summer) or 6:00 to 7:00 pm (during the winter) (in winter). Around 9:00 pm – 10:00 pm (in the summer) & 8:00 pm – 9:00 pm (in winter). The Goddess' bed is magnificently decorated with flowers and ornaments for this particularly unique Aarti, known as "Sayan Ki Aarti." There are two steps to this, Aarti. The main temple is where the first phase occurs, and the SEZ building is where the second phase occurs. Daily shlokas are repeated in addition to these aartis.
How to Get to Jwalamukhi Temple in Kangra
By Train:

Kangra Railway Station, located about 2 km from Jwalamukhi Mandir, is the railway station closest to the temple. The closest broad gauge railroad station is located 123 kilometers distant at Pathankot. The mountain train in Kangra is the closest narrow gauge.

By Air: Dharamsala's Gaggal Airport is the closest airport to Jwalamukhi Temple. This is situated 46 kilometers away from Jwalamukhi Mandir. The airport only connects the three largest cities of Delhi, Chandigarh, and Kullu. There are three weekly flights by Indian Airlines between Delhi and Dharamsala.
By Road:

By taxi, bus, personal vehicle, or bicycle
From Pathankot to Dharamsala, the closest bus stop is 140 kilometers from the temple. Jwalamukhi Temple is situated 56 kilometers from Dharamsala and 30 kilometers from Kangra. From Pathankot, a bus service is available.
Jwalamukhi Temple Nearby Attractions in Kangra
Jwalaji Temple

Brij Raj Swami Temple

Shiv Temple

Gopalpur Zoo

Ashtabula Temple

Brajeshwari Devi Temple

Shri Baglamukhi Mata Mandir

Kangra Fort

Shri Kalinath Kaleshwar Mahadev Temple
Does this topic interest you?
Add to your news feed